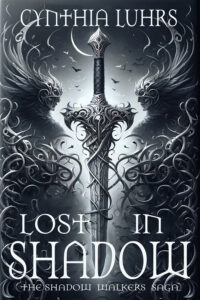 A CHANCE ENCOUNTER…
A relaxing vacation to Scotland turns deadly when a chance encounter with an immortal highland warrior leads to murder. When Emily witnesses a murder no one else can see, she learns she possesses an extraordinary ability allowing her to interact with the Shadow Walkers.
WITH AN IMMORTAL HIGHLAND WARRIOR
Lord Colin Campbell prowls the streets of Edinburgh, a barren shell, eviscerating those who prey on humanity. No longer believing in love, unable to trust, Colin is rocked to the core when fate intervenes.
UNLEASHES A DEADLY CURSE AND A CHANCE AT ETERNAL LOVE…
Unwittingly drawn into Shadow when she saves Colin, a terrible curse is unleashed. Now with only a week to break the curse, time is running out. Locked in a deadly fight with forces that will stop at nothing to destroy her before she succeeds, Emily must find the key.
If you enjoy persnickety gods, supernatural creatures and immortal warriors, then Lost in Shadow is for you.
Please Note: these are steamy paranormal romance!
Read Now:

Amazon